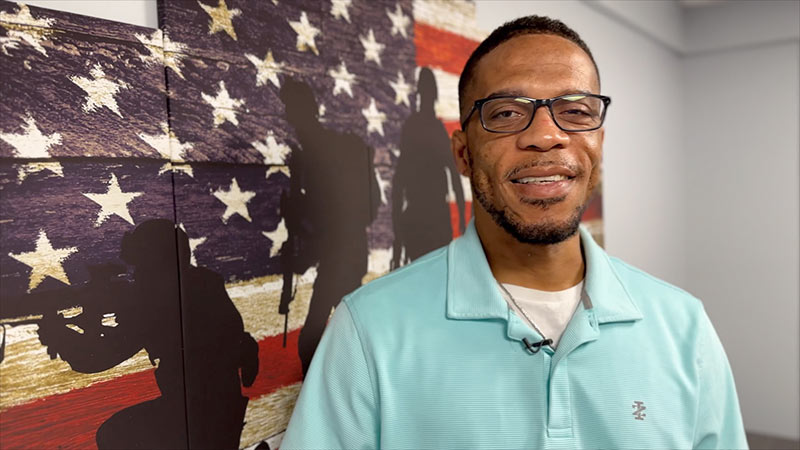 Shoes. They take you where you want to go and sometimes where you don't want to go.
Sheldon Wright needed them to help him escape – homelessness, substance abuse – and find a place where he could rebuild his life and reunite with his family. He didn't know it when he was looking down through tear-filled eyes, but those 'flapping' shoes would eventually lead him to Liberty House, a program made possible through generous support of people like you.
A Tough Start
Growing up in the Midwest, Sheldon lived with his mother, stepfather and two siblings until he was a teenager, suffering abuse at home and eventually drifting off and 'hanging out with the wrong crowd,' which led to him being sent to live with his aunt in a rough part of the city.
"It was a culture shock for me," he recalls. "Gang violence, drugs – and I kept waiting for my family to pick me up but they never showed."
It didn't take long for Sheldon to be drawn into the wrong lifestyle, but there was one glimmer of light in his new neighborhood.
Love and the US Army
Shawana lived on the next block, and one day was just standing on her porch when she stopped Sheldon cold. "I was just giddy," he remembers with a laugh. "I asked my cousin to introduce me and that's how we started. And she's been there for me the whole time."
As Sheldon and Shawana grew closer, he also felt a pull toward serving his country. Military service ran deep in Sheldon's family and he enlisted in the US Army as a combat engineer at Fort Leonard Wood in central Missouri, about a couple of hours from home.
"Things were good there," says Sheldon. "I learned that I could be responsible, that I had willpower. But my mom got cancer and to be with her, I went reserve and moved back home, back to the same neighborhood."
"Wherever I Go, There I Am"
It didn't take long for Sheldon to return to old ways of substance use and Shawana wanted no part of that life, moving to New Hampshire with their young child and taking a job in healthcare. It took five years, but Sheldon eventually followed, determined to turn things around and recapture the discipline and willpower he displayed when he was in the Army. He and Shawana married and they both hoped the change in scenery would be the answer.
"Wherever I go, there I am. I think geographical cures are overrated unless you really want to change," he says, "and at first I loved how peaceful it was here, but once I got lax and comfortable, things went bad again and I found the drugs, because you can find that anywhere."
They soon separated again, and Sheldon's shoes kept taking him where he didn't want to go. Finally, as he stared through tears at his flapping sneaker soles, praying for help, he experienced a moment of enlightenment.
"I don't know how to explain it," he remembers, "it was like an out-of-body experience, looking at myself, like 'who is this person?' And that moment, I believe, eventually guided me to Liberty House."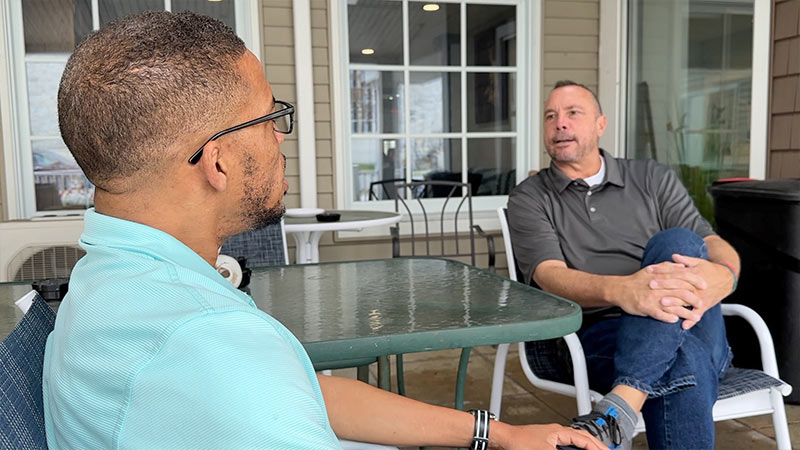 A Lifeline at Liberty House
Homeless and addicted to substances, Sheldon entered a local addiction treatment center in Manchester. While there, he was referred to Liberty House, a program of Catholic Charities NH that offers homeless and recovering veterans transitional housing and support to help them get their lives back on track. At Liberty House, Sheldon connected right away with "Coach" Dave Keefe, who would become his case manager.
"Sheldon was lost but we jumped in right away," Dave recalls. "No birth certificate, let's get that; no Social Security card, let's go and get that. Liberty House gets our veterans back on track so they can get a job and start moving forward."
In Liberty House's 4-step program, caring staff members walk alongside the veterans through recovery, helping residents obtain key documents and medical attention, secure employment and ultimately move into permanent housing.
"They basically love you until you love yourself," says Sheldon. "I had forgotten who I was and had no self-esteem. My teeth were horrible too, because of drug use, and I hated smiling. I would come downstairs and hear laughter and go back to my room. But they connected me to dental resources and that helped me feel confident in whatever I'm trying to do. Who doesn't appreciate a good smile?"
In addition to the staff, Sheldon also found that the camaraderie of being around fellow veterans who support each other was helpful in his Liberty House journey.
"I missed it," he explains. "We're a brotherhood – you're accepted and it's for life. It's a rarity to be around a group of guys that have the same goal in mind and we all cherish that."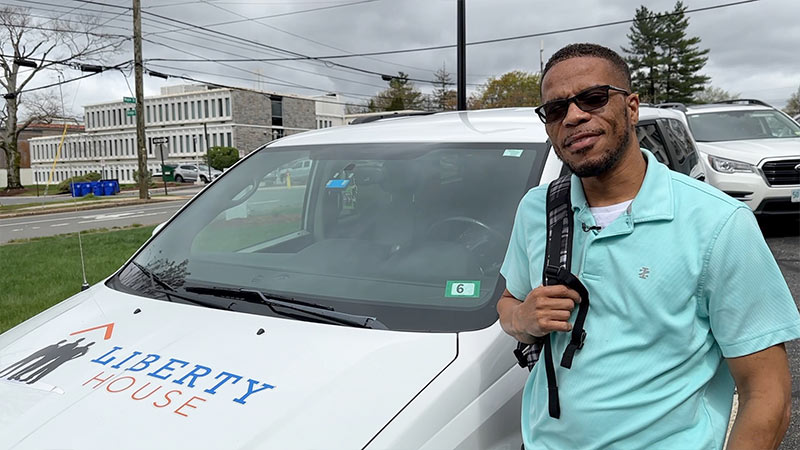 Reunification and Next Steps
Throughout his months at Liberty House, as Sheldon was building himself back up, a familiar face began appearing on weekends to cheer him on. Shawana has seen it all when it comes to Sheldon, and she liked what Liberty House was doing for him.
"She loves Liberty House and she's very supportive now," says Sheldon, "but I drove her through the mud and I think about that every day. I just try to make up for all I can from this day forward. I love my wife and want her to be happy."
Today, Sheldon's shoes take him to a full-time job and to his home, where he has reunited with his wife. He still maintains regular contact with Liberty House and meets periodically with Coach Dave – and he never hesitates in his praise of the program, the staff and the donors who make it all possible.
"To the donors who support Liberty House, sometimes we just need that extra push or some help and thank God for people like you. You've changed my life. God works through turbulence, meaning He'll shake things up to get your attention. I had to trust and have faith and I found somewhere where I could feel at home, do something positive. I've never been happier in my life."
Support Liberty House
Support veterans, like Sheldon, as they seek to take back control of their lives and build stability.